A National Trend, a Local Crisis
"The increased use of prescription opioid pain medications, along with the widespread availability of cheap heroin and newer synthetic Fentanyl analogs, have contributed to a public health crisis in our community. Too many people have died and many have been deeply affected by this issue" – Indu Gupta MD, MPH, MA, FACP, Commissioner of Health, Onondaga County Health Department"
As seen nationally, Onondaga County has experienced an increase in opioid use over the last several years. The crisis has affected individuals in across all populations in Onondaga County.
This data report shows information from multiple sources to provide a broad picture of the impact of opioid misuse in Onondaga County. These data were selected because they show the scale and scope of the crisis our community is currently facing. When relevant, comparisons will be made to New York State (NYS) excluding New York City (NYC), Central New York, and other counties in NYS.
Opioid-Related Deaths
There has been an increase in opioid-related deaths within Onondaga County since 2012. The proportion of opioid-related deaths involving fentanyl has also increased substantially. Figure 1 depicts unintentional opioid-related deaths in Onondaga County from 2012-2018.
Figure 1: Total Unintended Opioid Related Deaths in Onondaga County, 2012-2018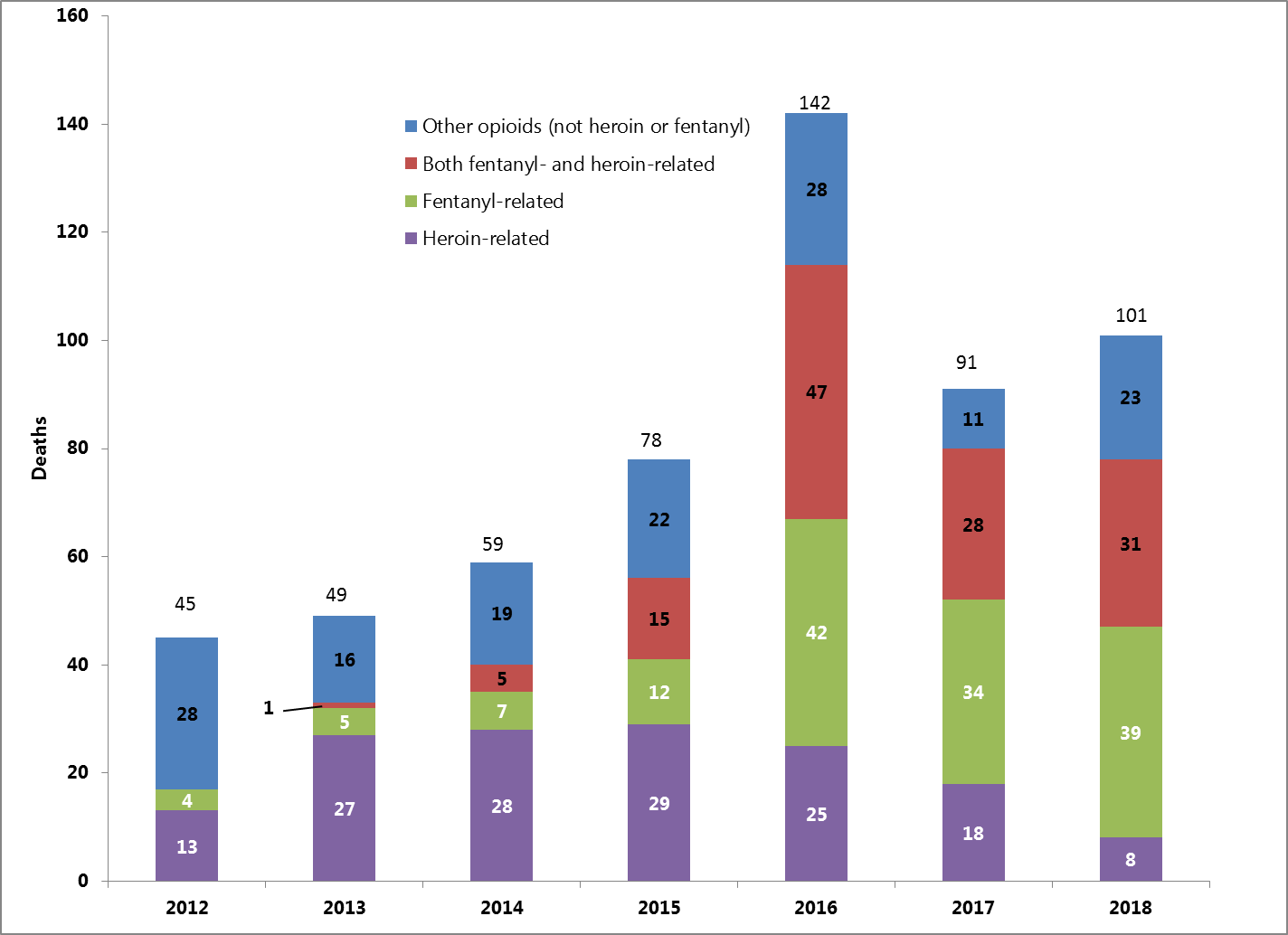 Source: Onondaga County Medical Examiner's Office, April 2019.
Figure 1 data notes: Chart includes fentanyl analogs.  Deaths are through the the end of  2018. Data from the first quarter of 2019 will be reported at the end of the second quarter of 2019. 2018 data are provisional. The categories used in Figure 1 are defined below: 
Heroin-related: Heroin alone or in combination with other drugs (non fentanyl)
Fentanyl-related: Fentanyl alone or in combination with other drugs (non heroin)
Both fentanyl- and heroin-related: Both fentanyl and heroin alone or in combination with other drugs
Other opioids: Opioids other than heroin or fentanyl
Figure 2: Unintended Prescription Opioid-Related Deaths in Onondaga County
Emergency Department Visits and Hospitalizations
In addition to mortality rates, Emergency Department visit and hospitalization rates help to demonstrate the extent of the crisis in Onondaga County. As seen in Figure 4, Emergency Department visit rates have increased from 2015 to 2016 in all categories. Additionally, hospitalization rates in Onondaga County are higher than in NYS excluding NYC (Figure 5). 2016 is the most recent year for which complete data are available.
Drug Exposed Newborns
Drug use impacts many families in our community, including some of the youngest residents. Onondaga County has the third highest rate in New York State for newborn drug-related diagnoses, with 304.3 drug-related diagnoses per 10,000 newborn discharges in 2014 (Figure 7).
Figure 7: Newborn Drug-Related Diagnosis Rate Per 10,000 Newborn Discharges, NYS Counties, 2014.
Safe Medication Disposal
Onondaga County's Sharps Needles and Drug Disposal (SNADD) program offers a solution for the safe disposal of household medications.  Several medicine and needle drop boxes are located throughout Onondaga County.  Since it's inception, in November 2015, the program has collected 3,025 lbs of drugs.
Figure 9: Total Pounds Collected Through SNADD Program, Onondaga County, 2015-2018
Naloxone is a life saving medication that can be administered to reverse an opioid overdose.
Between 2015 and 2016 there was a slight increase in the number of naloxone administrations reported by Emergency Medical Services in Onondaga County. Reports of administrations for 2017 show a decrease by comparison. (Figure 10).
Figure 10: Naloxone Administration by Emergency Medical Services, Onondaga County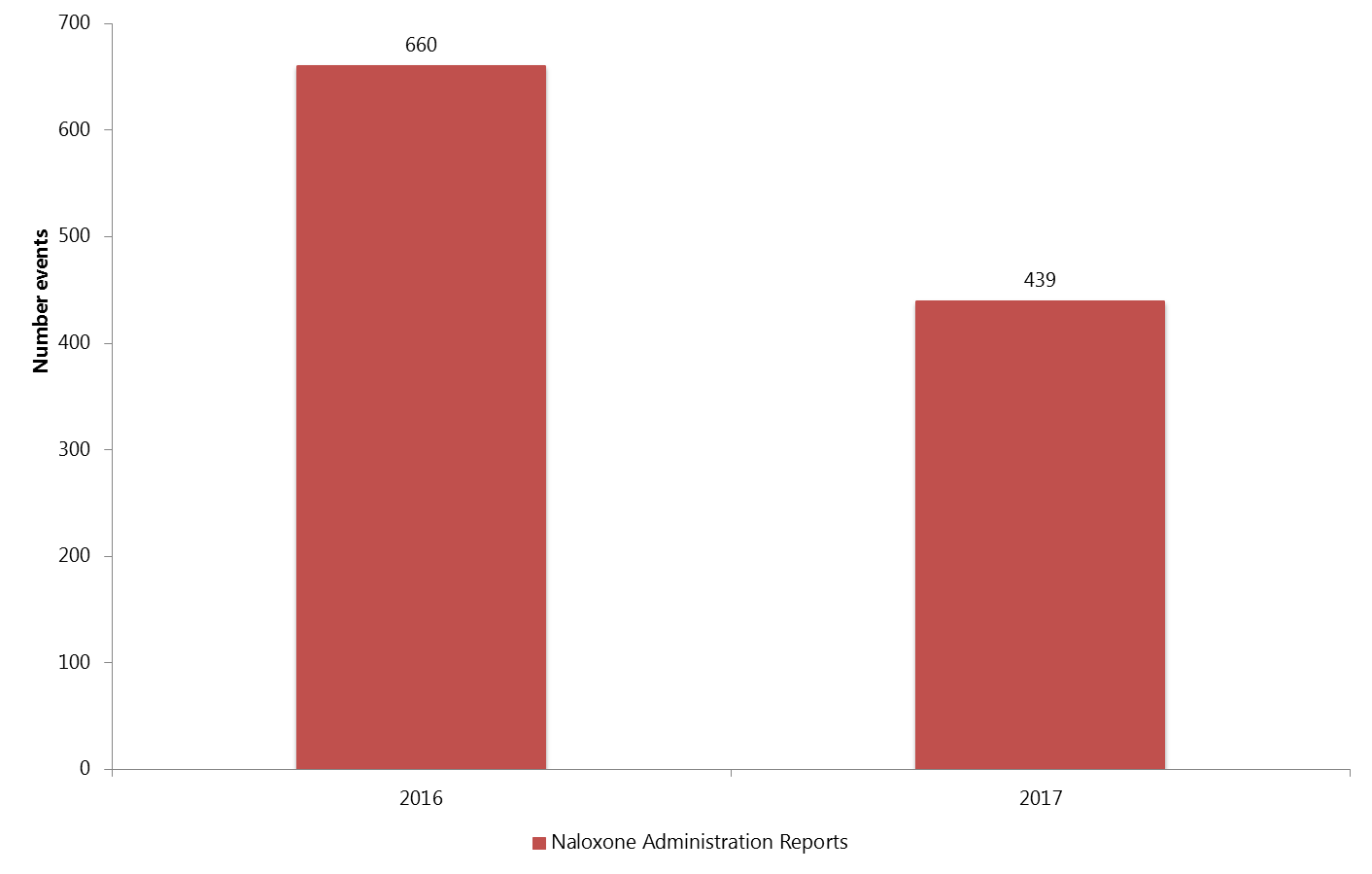 Source: New York State-County Quarterly Report Published January 2019
Figure 10 Data Notes: Preliminary data as of November 2018. Numbers represent only naloxone administration events reported electronically, actual number of events may be higher. Additional data validation steps have been taken to de-duplicate administrations by multiple agencies for the same patient encounter.
Figure 11: Unique Clients admitted to OASAS-Certified Chemical Dependence Treatment Programs